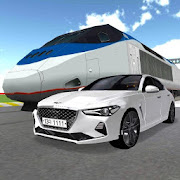 3D Driving Class Mod APK 28.60 [Unlocked]
Update on: 2023-03-21
3D Driving Class Mod is a modified version of 3D Driving Class developed by John 316. The difference between mod version and original version is: Some vehicles can be unlocked, click YouTubego video button ... You can download latest mod version or original version of
3D Driving Class 28.60
with HappyMod. HappyMod is the best mod downloader for 100% working mods. Click here to learn
how to use HappyMod
to download and install all kinds of file types:xapk, bapk, apks...
# Mod Info
The main advantages / modifications of 3D Driving Class Mod APK 28.60 [Unlocked]
Mod V1 features:
Some vehicles can be unlocked, click YouTubego video button to use the vehicle.
[Reminder] If you cannot enter the game, try the game accelerator or network tool (VPN).
Mod V2 features:
Unlocked Cars
Mod of recommend
Mod of latest version
# A professional driving course can be downloaded as a 3D Driving Class mod.
New learners to the 3D Driving Class get careful guidance. Everything on the course can be seen on the play screen. When practicing your driving skills, don't let the small things distract you. Instead, acknowledge that all your minor tasks contribute to your success by providing a solid foundation. Then you can focus on excelling at 3D Driving Class.
# Able to perform any task proficiently
The game includes a car that you can use before starting the 3D Driving Class. The class gives you specific instructions on the most basic control methods. There are four car options that you can choose from; three are available for each gender. The game levels range from basic to advanced. It takes just a few seconds to jump between the two levels. The screen offers a wide range of views that players can adjust. From the wheel to the accelerator and brake, players can choose how they're displayed on the screen with ease. Each grade offers its own unique experience to choose from. Practicing first involves understanding simple concepts. This learning curve takes time to master. By earning additional experience, players can better fend off outside forces that influence them. Any long-distance movement during heavy rain or snow necessitates adaptation to the circumstances. With proper knowledge and practice, this task can be easier to accomplish.
# Adhere to traffic regulations.
Traffic rules need to be understood while taking a 3D driving class. Doing this helps avoid conflicts with other drivers. Parking and driving also need to follow traffic laws. This lesson is needed to avoid accidents or collisions. People have to deal with the surrounding road signs and symbols as part of the challenge. This fact causes some participants to feel self-conscious. Because 3D Driving Class's roads sometimes have oversized lanes, participants must follow the same regulations as in real life.
# Explore new places and discover new things.
During 3D Driving Class, you travel from a small town to the major roads of Europe. Each location is visually stunning; you'll start in the smaller town and end in the larger towns. Visit exotic locales like Germany, the Netherlands, or Paris for an adventure that leaves you feeling serene. New supercars await anyone willing to brave multiple destinations. All cars in the real world are replicated with precision at 3D Driving Class. That's because every iconic car already exists in reality— people just have to keep looking for them. With 3D Driving Class, participants connect to the website to provide an added dimension of interaction. While maneuvering a vehicle, participants demonstrate their abilities with each action the opponent performs. Experiencing 3D Driving Class makes your game screen more impressive at the same time. After you download it, you can practice driving to get where you want to go.
# Information about the game's universe is included in the title.
They create a 3D Driving Class to teach you to become an expert driver. This class takes place in locations including London, Paris, Berlin and the country. The game's graphics are nice and are displayed in a three-dimensional format. Current racing games encourage lawbreaking and ignore traffic rules. Instead of ignoring these rules, BMW, Honda, Scooter, Jeep and Truck options allow players to complete three difficulty levels of tests that require control of six different types of vehicles. These tests include controlling a Jeep, Truck and Honda as well as controlling a BMW. These vehicles have to be passed with at least three stars on each test. Once these requirements are met, a teacher will follow the player around in a car and will present an unsightly expression when the player breaks the law. Some aspects of the game are strange. When a car crashes into a motorbike, the motorbike rider is ejected from the car. The game's sound effects — like the sound of the car engine or sirens — play for only a few seconds before you watch a slow motion video of the driver reversing into his vehicle. He then drives off without stopping. The creators of this game use it for both educational purposes and as a form of entertainment. Therefore, don't focus on these unusual aspects of the game. There is a Free Run mode in the game that you can access if you feel confident behind the wheel. This mode allows you to drive in any direction you choose, such as when exploring beautiful cities with routes you want to explore.
# To play 3D Driving Class, just take the wheel!
With the help of 3D Driving Class, you can learn how to operate cars with ease and achieve a driving license. This software simulates driving with real-life cars by offering realistic graphics and user-friendly features. Many people use this software instead of playing racing games; it has many special features that make it stand out. 3D Driving Class teaches new drivers about concepts such as checking the rearview mirror, parking under lights and yielding to other traffic. They can choose between a first-person perspective or third-person one to determine which works best for them. We learn how to navigate our car through a 3D world while sitting in the driver's seat. This is part of 3D Driving Class, which takes place in a city with signs, cars, pedestrians and buildings. We need to follow all traffic laws as we drive through the simulation. The driving instructor's acoustic guidance helps the learner driver tackle many headaches. These include obeying traffic laws such as stopping and yielding, following proper signals and signs, and recognizing brake lights. They also need to understand such concepts as speed limits, looking both ways, use of mirrors and headlights, detecting obstacles, and respecting road signs. Any road trip is unique thanks to 3D Driving Class's ability to customize simulations to any situation. For example, we can adjust the amount of traffic driving on a busy or quiet road. You can also add snow and night options to your simulation. This will make it harder to see as well as increase the slipperiness of roads. Additionally, you can add simulated rainfall to decrease visibility and increase road slipperiness.conditions.
# 3D Driving Class Mod APK 28.60 [Unlocked] Features:
La prueba de la licencia de conducir de Corea del Sur se cambiará a partir del 22 de diciembre de 2016.

Esta es una aplicación de simulación que puedes practicar a través de juegos.

Se puede practicar la prueba funcional intestinal y la prueba de carretera.

Los contenidos modificados de los puntos de deducción y los elementos de deducción se aplicaron realmente al juego.

Seguiremos actualizando y convirtiéndolo en una mejor aplicación.

Enlace al canal de YouTube operado por el creador de aula de conducción 3D.
https://www.youtube.com/c/DriveSchool3D

 Música de Arc North con la pista Oceanside.

Contacto: 010-2109-0413

A professional driving course can be downloaded as a 3D Driving Class mod.
Able to perform any task proficiently
Adhere to traffic regulations.
Explore new places and discover new things.
Information about the game's universe is included in the title.
To play 3D Driving Class, just take the wheel!

# How to download and install 3D Driving Class Mod APK 28.60 [Unlocked]?
// Option A //
To download 3D Driving Class mod from HappyMod.com.
You need enable the option "Unknown Sources".
1. Click on the above link to download 3D Driving Class mod APK.
2. Save the file in your device Downloads folder.
3. Now tap on Install and wait for the installation to finish.
4. Once it is done, open the game and start playing it right away.
// Option B //
To download 3D Driving Class from HappyMod APP, you can follow this:
1. Open your browser and download the HappyMod APK file from HappyMod.com - the only official website of HappyMod.
2. Open Android Settings and go into Privacy or Security.
3. Tap the option to Allow Unknown Sources and enable it.
4. Go to your Android downloads and tap the APK file.
5. Follow the directions on the screen to install it.
6. Search 3D Driving Class in HappyMod App.

# Full Specifications of 3D Driving Class Mod APK 28.60 [Unlocked]
// Download Information //
| | |
| --- | --- |
| Size | 499.1MB |
| Version | 28.60 |
| Version Code | 445 |
| Lang | ar ar-EG ar-SY de de-DE en en-US es es-ES fa fr fr-FR he hi ht id ja ko mr pa pt pt-PT ru sw ta te zh-CN |
// Operation Systems //
Permission
INTERNET ACCESS_NETWORK_STATE WRITE_EXTERNAL_STORAGE READ_EXTERNAL_STORAGE AD_ID FOREGROUND_SERVICE
Permission Text
OTHER:
OTHER:
Allows applications to open network sockets.
Allows applications to access information about networks.
STORAGE:
Allows an application to write to external storage.
Allows an application to read from external storage.

Min Sdk
19
Min Sdk Txt
$mod_unpack_info.min_sdk_txt}}
Target Sdk
30
Target Sdk Txt
30
Multi Window
No
Supports Screens
small, normal, large, xlarge
CPU
armeabi-v7a
Open GL Int
0
Supports Any Density
Yes
Densities
120, 160, 240, 320, 480, 640
// User Features //
Uses Feature
Screen hardware features:
other.

Uses Feature
Touchscreen hardware features:
The app uses the Global System for Mobile Communications (GSM) telephony radio system.
The app uses the device's basic two-point multitouch capabilities, such as for pinch gestures, but the app does not need to track touches independently. This is a superset of the android.hardware.touchscreen feature.
The app uses the device's advanced multitouch capabilities for tracking two or more points independently. This feature is a superset of the android.hardware.touchscreen.multitouch feature.

// Signature //
| | |
| --- | --- |
| Md5 | 579D68614FFB4EB1E7F8F6AD0DDBBF76 |
| Signature | A7B3774480C00C2064EA19F159906241F9F9D225 |
| Sha256 | AB9E09A265FEBB9CD0AD883E0F2E56D098665237F0B26B6B6C0912CB4A5889A0 |
| Valid From | Fri Apr 26 05:42:17 CEST 2019 until: Sun Apr 18 05:42:17 CEST 2049 |
| Serial Number | 2a9d19b2 |
// Developer //
# What're users talking about 3D Driving Class Mod APK
Download HappyMod to join real time talk with millions of users.
User reviews
User requests
Request a latest version of 3D Driving Class Mod
If this mod doesn't work, you can send a request to HappyMod community. Users will upload a new mod if they've one.
Send a request
Latest requests related to 3D Driving Class
# Video reviews:
Wondering whether this mod is working? Check out screen capture videos about this mod.