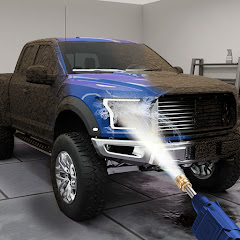 Power Gun - Washing Simulator Mod APK 10.1 [Remove ads]
Update on: 2022-03-21
Power Gun - Washing Simulator Mod is a modified version of Power Gun - Washing Simulator developed by . The difference between mod version and original version is: No ads... You can download latest mod version or original version of
Power Gun - Washing Simulator 10
with HappyMod. HappyMod is the best mod downloader for 100% working mods. Click here to learn
how to use HappyMod
to download and install all kinds of file types:xapk, bapk, apks...
# Mod Info
The main advantages / modifications of Power Gun - Washing Simulator Mod APK 10.1 [Remove ads]

No ads

Mod of recommend
Mod of latest version
# The Power Wash Simulator Mobile app includes in-depth information about the app.
In the APK file format for the power wash simulator game by Mighty Game Studio, cleaning is done in a variety of locations. This game can be played on washing machines, planes, vans, ships and even junkyards. The power wash simulator APK android app is only 100 Mb in size. It works with any Android 4.4 or newer device. Consequently, you can expect no lags and speedy performance with this app. Running a business suits you, so consider this a labor of love. You can even open new branches and improve equipment when playing this game.
# A realistic game experience is achieved with this game's interactable gameplay.
An APK download of the power wash simulator game offers a unique, immersive experience. Different challenges pop up at each level, such as cleaning a van or an airplane. In this game, prices for different objects determine how much money you earn each time you complete a task. Additional equipment or upgrades can be purchased with the money you receive. Make sure your customers are satisfied with your work to encourage future business growth. You must treat each person differently in order to gain a positive reputation. The game features many different clients with different preferences. This game features different weather conditions; it's extremely important to account for these when making critical decisions.
# Use the appropriate cleaning technique!
It's important to choose the correct pressure washer and nozzle when playing this game. Even more challenging is cleaning grime, grease and rust from machinery. This is because the game provides lots of pressure washers to choose from with different nozzles. Different machines perform different tasks. You need to choose the appropriate machine based on the specific job at hand. For instance, some nozzle attachments are better at removing grease while others remove rust. You must remove all of the object's dirt without damaging it through pressure. Too little pressure won't remove any dirt, while excessive pressure can damage the object or paint. Instead, use enough water pressure to remove all dirt without damaging the object. Advertisement In addition to providing a nice shine, detergents can be used to treat tough stains. They can also be used to pre-treat materials that aren't visibly stained before washing them. When cleaning apartments, offices, or carpets, using the right detergent can leave a lasting impression.
# Complete your makeup transformations by listening to cool music!
The game's music is perfectly in sync with every frame of the movie-like world it creates. It's so spectacular that music lovers playing the game don't even notice how much effort they're putting into it. The power washing business produces impressive sound effects. Water spraying and pressure washer noise feel exceptionally real. Plus, these sounds top off an already great product.
# Power washing businesses can upgrade and become tycoons.
This business game's upgrades are available for purchase in many categories. These range from buying new machines to upgrading existing ones to even opening new branches of the business. There's no limit to what you can achieve with a little imagination and investment. Businesses need to be run wisely as they grow. This simulation game shows you the difficulties of running a real business very well. You'll have to make difficult decisions that affect your bottom line. You can personalize your business by choosing the logos, colors, and designs that reflect your personality. Becoming a cleaning tycoon requires hard work. However, the long term benefits of this achievement make it worth the difficulty.
# The Power Wash Simulator Mobile app provides special features not found in regular apps.
This game has multiple cleaners to help you finish as many as your tasks as possible. It has universal and specific cleaners, and you can even use a detergent that's specifically for plants. This game's high-quality graphics make it seem like you're right in the middle of the story. They're so good, you'll think you're looking at real scenes. No outside factors are acknowledged in this title, which maintains an untarnished appearance. All you need to clean any in-game object is money and a larger empire to build. The game provides many tools that players can use to complete their tasks. You need to scrub, wash and blast objects with a pressure washer to earn higher grades. Additional tools become available as you progress through the game. This game's simple user interface makes it easy to run a power washing business. From the game's main menu, you can access every aspect of the game. You can purchase new machines, change your business' features and manage your workers. This game efficiently manages your workers by assigning them different tasks. It promptly completes their assigned tasks. This game has easy controls for beginners. You can use the on-screen buttons to control the pressure washer, the cleaning tools and the workers. Advertisement
# A Power Wash Simulator app can be downloaded for free.
You can download Power Wash Simulator for free from the Google Play Store. The game is compatible with Android devices; simply search for "Power Wash Simulator" in the Google Play Store to get started. This is the only power wash game you can play on a mobile device! You can get third-party sources' versions of the Power Wash Simulator MOD APK game that increase the game's excitement. This version has no limits on how much money can be earned. With new machines and more employees, you can bypass the money issue and quickly improve your business. Additionally, additional resources allow you to upgrade your business faster. By using the Power Simulator APK to remove ads from the game, players can continue developing their business without interruption. Even better, this allows people to avoid any ads at all when playing the game. When possible, use a trusted source to acquire the modified version of the software. This way, you avoid any malicious software that could damage your device. ———
# Power Gun - Washing Simulator Mod APK 10.1 [Remove ads] Features:
Play power wash game with satisfying experience. Car washers and clean up dirty objects in washing simulator. Prepare for deep clean with ultimate car wash , house wash, van wash, airplane wash , ship wash, junkyard wash and more. Remove years old filth in our power wash simulator. Start your clean up business in this job simulator.

PressureWash Sim
Graffiti, grime, moss, mould and no dirt are tough for your washers pick up the right pressure gun set the desired nozzle on it and start cleaning the filthy objects. Wash away your worries with high pressure water and soothing sounds in relaxing games. Get the best powerwasher from your inventory and clean the dirty saktepark in new simulation games 2022. Pick up pressure water jet and clean up the washhouse in water games. Learn how to get rid of rust on a car, wash and wax, breach and clean, carpet cleaning, office cleaning and liquid simulation.

Powerwasher for car makeover
Powerwasher guns are your tools for car makeovers, washing bike, airplane wash, ship wash ⛴ and pressure n'clean. Set the desired nozzle and optimal water pressure use universal cleaner to clean up 3d cars. Makeover unique vehicles in our vehicle washing games . No matter which vehicle you bring our automobile cleaning games will wash it all every grime of dirt.

Clean up and washing business
Fire up your power washer and blast away every speck of dirt and grime you can find. Build your own power washing business and unlock new tools and upgrades. There's no time pressure, just you and the tools you need to soak away your stress. Want a clean start? Chill out and replay your favourite jobs in new free games. Expand your car wash empire and become power dealer for more wash and wax. Washing bike has never been so so satisfying.

Relaxation and Satisfaction in new free games
Absorb the relaxing atmosphere and stress free pace as you strip dirt from patios, pavements, vehicles and public parks. Kick off the washer relax, asmr clean and wash your worries down the drain. Create art by cleaning the way you want to wash me clean. Release the water pressure with soothing sounds and make washing even more stress relfie games 2022.

Features:
✧ Do hosing on objects with pressure washer jet
✧ Use detergent and universal cleaning liquid for rust.
✧ Start your own washing company and earn profits.
✧ Wash me clean dust in car wash garage for automobile cleaning.
✧ Provide your clients with best cleaning services .
✧ Everything with the simple satisfaction and stress relief hosing.
✧ Washing bike and wet cleaning for power watch.

If you are a fan and want to play satisfying games, relaxing games, stress relief games, business games , company games and start your own car wash garage games then play our power washing simulator to enjoy all the fun.

Follow us to get news and updates:
Facebook.com/invoguetechnologies.org
Instagram.com/invogue.tech/

Send your valuable feedback at neelumbajiplc@gmail.com

The Power Wash Simulator Mobile app includes in-depth information about the app.
A realistic game experience is achieved with this game's interactable gameplay.
Use the appropriate cleaning technique!
Complete your makeup transformations by listening to cool music!
Power washing businesses can upgrade and become tycoons.
The Power Wash Simulator Mobile app provides special features not found in regular apps.
A Power Wash Simulator app can be downloaded for free.

# How to download and install Power Gun - Washing Simulator Mod APK 10.1 [Remove ads]?
// Option A //
To download Power Gun - Washing Simulator mod from HappyMod.com.
You need enable the option "Unknown Sources".
1. Click on the above link to download Power Gun - Washing Simulator mod APK.
2. Save the file in your device Downloads folder.
3. Now tap on Install and wait for the installation to finish.
4. Once it is done, open the game and start playing it right away.
// Option B //
To download Power Gun - Washing Simulator from HappyMod APP, you can follow this:
1. Open your browser and download the HappyMod APK file from HappyMod.com - the only official website of HappyMod.
2. Open Android Settings and go into Privacy or Security.
3. Tap the option to Allow Unknown Sources and enable it.
4. Go to your Android downloads and tap the APK file.
5. Follow the directions on the screen to install it.
6. Search Power Gun - Washing Simulator in HappyMod App.

# Full Specifications of Power Gun - Washing Simulator Mod APK 10.1 [Remove ads]
// Download Information //
| | |
| --- | --- |
| Size | 100.4MB |
| Version | 10.1 |
| Version Code | 11 |
| Lang | af am ar as az be bg bn bs ca cs da de el en-AU en-CA en-GB en-IN en-XC es es-US et eu fa fi fr fr-CA gl gu hi hr hu hy in is it iw ja ka kk km kn ko ky lo lt lv mk ml mn mr ms my nb ne nl or pa pl pt pt-BR pt-PT ro ru si sk sl sq sr sr-Latn sv sw ta te th tl tr uk ur uz vi zh-CN zh-HK zh-TW zu |
// Operation Systems //
Permission
INTERNET VIBRATE ACCESS_NETWORK_STATE WAKE_LOCK RECEIVE_BOOT_COMPLETED BIND_GET_INSTALL_REFERRER_SERVICE FOREGROUND_SERVICE
Permission Text
OTHER:
OTHER:
Allows applications to open network sockets.
Allows access to the vibrator.
Allows applications to access information about networks.
Allows using PowerManager WakeLocks to keep processor from sleeping or screen from dimming.
Allows an application to receive the ACTION_BOOT_COMPLETED that is broadcast after the system finishes booting.

Min Sdk
19
Min Sdk Txt
$mod_unpack_info.min_sdk_txt}}
Target Sdk
30
Target Sdk Txt
30
Multi Window
No
Supports Screens
small, normal, large, xlarge
CPU
armeabi-v7a
Open GL Int
0
Supports Any Density
Yes
Densities
120, 160, 240, 320, 480, 640
// User Features //
Uses Feature
Screen hardware features:
other.

Uses Feature
Touchscreen hardware features:
The app uses the Global System for Mobile Communications (GSM) telephony radio system.
The app uses the device's basic two-point multitouch capabilities, such as for pinch gestures, but the app does not need to track touches independently. This is a superset of the android.hardware.touchscreen feature.
The app uses the device's advanced multitouch capabilities for tracking two or more points independently. This feature is a superset of the android.hardware.touchscreen.multitouch feature.

// Signature //
| | |
| --- | --- |
| Md5 | 68170B6B26E52338BC07AE665303CC36 |
| Signature | 26B02D233509F4AECF56980032343456CEAB722A |
| Sha256 | 492682F877607EE99DF2DDD2BD5953FD727BDF6E19D397DE9DBBAFD582BCAD75 |
| Valid From | Sun Apr 25 11:03:56 CEST 2021 until: Sat Aug 26 11:03:56 CEST 3020 |
| Serial Number | 45ff9a3 |
// Developer //
| | |
| --- | --- |
| Developer | np |
| OU | np |
| Organization | np |
| Locale | ?? |
| City | ?? |
# What're users talking about Power Gun - Washing Simulator Mod APK
Download HappyMod to join real time talk with millions of users.
User reviews
User requests
Write a review for Power Gun - Washing Simulator Mod APK
Rate it:
Submit a review
User reviews (45)
Request a latest version of Power Gun - Washing Simulator Mod
If this mod doesn't work, you can send a request to HappyMod community. Users will upload a new mod if they've one.
Send a request
Latest requests related to Power Gun - Washing Simulator