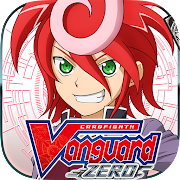 Vanguard ZERO Mod APK 2.83.0 [Mod Menu][Weak enemy][Invincible]
Update on: 2023-05-02
Vanguard ZERO Mod is a modified version of Vanguard ZERO developed by Bushiroad International Pte Ltd. The difference between mod version and original version is: Mod Menu>Auto Battle>Defense Multiplier>Dumb Enemy... You can download latest mod version or original version of
Vanguard ZERO 2.83.0
with HappyMod. HappyMod is the best mod downloader for 100% working mods. Click here to learn
how to use HappyMod
to download and install all kinds of file types:xapk, bapk, apks...
# Mod Info
The main advantages / modifications of Vanguard ZERO Mod APK 2.83.0 [Mod Menu][Weak enemy][Invincible]
Mod V1 features:
Menu, Auto Battle/High Defense/Dumb Enemy
Mod V2 features:
Mod Menu
>Auto Battle
>Defense Multiplier
>Dumb Enemy
Mod of recommend
Mod of latest version
# Get familiar with the Vanguard Cards by playing a lot.
The game Vanguard ZERO features a primary character named Aichi Sendou. He is a high school student with no particular significance to the plot. Aichi has the opportunity to hold a Trading Card Game (TCG) card and receive help from another person in accessing Vanguard's otherworldly realm. He enjoys the confrontations between decks and vanguard cards of various shapes as he becomes increasingly enthralled with the battle. From that point onward, his life became more interesting. The Vanguard game mode requires players to learn its rules through tutorial levels and game modes. Rules of Vanguard also include learning to use cards to fight and compete with other players. The damage bar at a character's bottom corner shows how effective players are in their attempts to deal damage to their opponent.
# Attack your opponent with cards by placing them in your hand.
In the card game Vanguard ZERO, a player must keep an important card with a zero next to it. If this card takes too much damage, the player will quickly lose and choose another card to replace it. This card has low combat power and is challenging to defeat. Additionally, during combat this card can allow the player to draw a new card. Each attack draws a new card, which can have a positive or negative effect depending on its traits. Some draw trigger cards, and when drawn correctly, they activate effects. These effects generally boost the power of an ally's pow— and cause enemies to suffer more damage taken. This is because the center Vanguard card needs to contend with a stronger one in order to maintain its grade. Another effect occurs if another card overshadows it— this causes the center Vanguard to increase in grade. When creating a Vanguard deck, consider the cards that appear from other locations in the game. You can't place called allies into your deck; only cards with a higher grade than the player's Vanguard can be used. Furthermore, high-quality cards provide better appearance effects and have higher pow values. By themselves, Vanguard cards fight better when they have no allies.
# Cards with powerful effects can be revealed.
When playing Vanguard ZERO, you earn different resources. One of these resources lets you access new cards. New cards randomly appear and the chance of this happens varies based on luck and how often they're opened. Adding new cards helps make the game more diverse with different effects by accident. One of the keys to a strong hand is creating strong connections between cards— both for infiltrating the opponent's mind and executing effective tactics. Some cards have effects that immediately activate, making it imperative to effectively use them. Even if an effect activates, there's still utility in playing these cards early in the game before they get negated by the opponent. Having strong decks makes it easier to connect cards and execute effective strategies against more experienced players. Playing cards in the Deck come with many different effects. Players initially assume the Aichi Sendou form to join a clash between cards and perform a Vanguard summons. A deck has a predetermined number of cards; however, the number of cards a player can use varies by genre. Additionally, a main Vanguard increases the strength of a grade by adding new power. Players can call additional cards to help them clear positions. These cards must meet specific criteria when called. When a battle reaches its end, the status bar indicates the amount of damage inflicted. Finding new cards to add to a player's current deck allows users to find effects that increase the card's connection.
# Story
Aichi Sendou spent most of his high school years pursuing a childhood interest. Katsumi Morikawa took Aichi's Blaster Blade, changing his life forever. Throughout the last several years of high school, Aichi didn't want to attend school anymore. However, he changed his mind after an event called him back to school. Achi confronts Toshiki Kai while chasing Card Capital thieves. During their confrontation, Achi reclaims her Blaster Blade by defeating Kai. With this newfound motivation, she decided to enter more tournaments as she believed she was capable of even greater things. To prevent Ren Suzugamori from negating the team's goal of competing in the national tournament, a new Q4 team, composed of Achi Kai Misaki Tokura and Kamui Katsuragi, was formed shortly afterward. This team faced initial difficulties with Ren, who acted as its first-round competitor. The longtime champion teams are led by the cruel Captain Achis. Does Will Achis' dream come true?
# The best Trading Card Game (TCG) game!
Anyone familiar with Yu-Gi-Oh can easily play Vanguard ZERO. This card game shares many similarities with Yu-Gi-Oh's gameplay, making it easy to learn and play. In a battle on Ray, players represent spiritual entities that summon units to compete with each other. Everyone in a battle alternates attacking and defending until one person loses all cards or is unable to call new units. Then the battle ends and another round commences. The spirit's Vanguard Circle at the center of the arena serves as a portal to summon and place warriors. Before a battle, the system randomly divides each player's held cards among them. This is how the system determined which player would go first during a combat encounter. At the start of the first round, cards are only available to pick. Further rounds include all damage and support cards. Pokemon TCG Online is a good option if you love playing card games.
# Offense and defense come together here in a combined manner.
Vanguard ZERO emphasizes the tactical side of the game through its focus on cards. No random moves win this game; instead, players must use cards to strategically win. I typically use a rest state for my first warrior. While the G support phase was ongoing, I stationed each of my cards for offensive strikes to defeat the enemy's key fighting forces. My side fights primarily to neutralize enemy progress toward the heart of their organization. If no progress is made, my team can still attack and defeat the enemy.d soon have an irreplaceable hole.
# Vanguard ZERO Mod APK 2.83.0 [Mod Menu][Weak enemy][Invincible] Features:
The popular TCG "Cardfight!! Vanguard" debuts as a Card Battle RPG on mobile! Experience the new world of Vanguard with the mobile optimized "Vanguard ZERO Rules"!

▼STORY▼
Aichi Sendou, the protagonist of the story, is just another a timid and inconspicuous junior high school boy.
In his dull and unassuming life, Aichi had but one support: "Blaster Blade", a TCG game card that he received as a child. When he started battling with the card, his life took a dramatic turn.
Fascinated by the allure of Vanguard, he meets companions like Misaki Tokura and Kamui Katsuragi through Vanguard Fights, and many other rivals as well.

▼FEATURES▼
A Card Battle RPG where you can enjoy a single player campaign as well as PVP battles!
A Story Mode that faithfully reproduces the world of the original "Cardfight!! Vanguard" animation series!
PVP Mode optimized with "Vanguard ZERO Rules" for mobile devices!
"My Room" feature where you have the freedom to create your unique room, and have your favourite characters hang out!
Experience the many other attractions Vanguard has to offer!

"Vanguard ZERO" is a moble game anyone can enjoy, whether you're already a fan, or completely new to "Cardfight!! Vanguard"!

▼PRICING▼
Free (with in-app purchases)

This application uses "Live2D" technology from Live2D Inc.

©bushiroad All Rights Reserved.

Get familiar with the Vanguard Cards by playing a lot.
Attack your opponent with cards by placing them in your hand.
Cards with powerful effects can be revealed.
Story
The best Trading Card Game (TCG) game!
Offense and defense come together here in a combined manner.

# How to download and install Vanguard ZERO Mod APK 2.83.0 [Mod Menu][Weak enemy][Invincible]?
// Option A //
To download Vanguard ZERO mod from HappyMod.com.
You need enable the option "Unknown Sources".
1. Click on the above link to download Vanguard ZERO mod APK.
2. Save the file in your device Downloads folder.
3. Now tap on Install and wait for the installation to finish.
4. Once it is done, open the game and start playing it right away.
// Option B //
To download Vanguard ZERO from HappyMod APP, you can follow this:
1. Open your browser and download the HappyMod APK file from HappyMod.com - the only official website of HappyMod.
2. Open Android Settings and go into Privacy or Security.
3. Tap the option to Allow Unknown Sources and enable it.
4. Go to your Android downloads and tap the APK file.
5. Follow the directions on the screen to install it.
6. Search Vanguard ZERO in HappyMod App.

# Full Specifications of Vanguard ZERO Mod APK 2.83.0 [Mod Menu][Weak enemy][Invincible]
// Download Information //
| | |
| --- | --- |
| Size | 72.8MB |
| Version | 2.83.0 |
| Version Code | 98 |
| Lang | af am ar as az be bg bn bs ca cs da de el en-AU en-CA en-GB en-IN en-SS en-XC es es-ES es-US et eu fa fi fr fr-CA gl gu hi hr hu hy id in is it iw ja ka kk km kn ko ky lo lt lv mk ml mn mr ms my nb ne nl or pa pl pt pt-BR pt-PT ro ru si sk sl sq sr sr-Latn sv sw ta te th tl tr uk ur uz vi zh-CN zh-HK zh-TW zu |
// Operation Systems //
Permission
ACCESS_NETWORK_STATE ACCESS_WIFI_STATE INTERNET BIND_GET_INSTALL_REFERRER_SERVICE VIBRATE POST_NOTIFICATIONS BILLING AD_ID RECEIVE C2D_MESSAGE SYSTEM_ALERT_WINDOW
Permission Text
OTHER:
OTHER:
Allows applications to access information about networks.
Allows applications to access information about Wi-Fi networks.
Allows applications to open network sockets.
Allows access to the vibrator.
Allows an app to create windows using the type TYPE_SYSTEM_ALERT, shown on top of all other apps.

Min Sdk
21
Min Sdk Txt
$mod_unpack_info.min_sdk_txt}}
Target Sdk
29
Target Sdk Txt
29
Multi Window
No
Supports Screens
small, normal, large, xlarge
CPU
armeabi-v7a
Open GL Int
0
Supports Any Density
Yes
Densities
120, 160, 240, 320, 480, 640, 65534
// User Features //
Uses Feature
Wi-Fi hardware features:
The app uses 802.11 networking (Wi-Fi) features on the device.

Uses Feature
Touchscreen hardware features:
The app uses the Global System for Mobile Communications (GSM) telephony radio system.
The app uses the device's basic two-point multitouch capabilities, such as for pinch gestures, but the app does not need to track touches independently. This is a superset of the android.hardware.touchscreen feature.
The app uses the device's advanced multitouch capabilities for tracking two or more points independently. This feature is a superset of the android.hardware.touchscreen.multitouch feature.

Uses Feature
The app requires the device to use the portrait or landscape orientation. If your app supports both orientations, then you don't need to declare either feature.#The app uses 802.11 networking (Wi-Fi) features on the device.#:


// Signature //
| | |
| --- | --- |
| Md5 | E89B158E4BCF988EBD09EB83F5378E87 |
| Signature | 61ED377E85D386A8DFEE6B864BD85B0BFAA5AF81 |
| Sha256 | A40DA80A59D170CAA950CF15C18C454D47A39B26989D8B640ECD745BA71BF5DC |
| Valid From | Fri Feb 29 02:33:46 CET 2008 until: Tue Jul 17 03:33:46 CEST 2035 |
| Serial Number | 936eacbe07f201df |
// Developer //
| | |
| --- | --- |
| Developer | Android |
| OU | Android |
| Organization | Android |
| Locale | Mountain View |
| Country | US |
| City | California |
# What're users talking about Vanguard ZERO Mod APK
Download HappyMod to join real time talk with millions of users.
User reviews
User requests
Request a latest version of Vanguard ZERO Mod
If this mod doesn't work, you can send a request to HappyMod community. Users will upload a new mod if they've one.
Send a request
Latest requests related to Vanguard ZERO