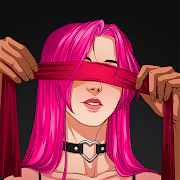 MeChat Mod APK 3.9.2
Update on: 2023-03-08
MeChat Mod is a modified version of MeChat developed by Playme Studio. The difference between mod version and original version is: : Modify sufficient diamonds without reduction.The1. The new... You can download latest mod version or original version of
MeChat 3.9.2
with HappyMod. HappyMod is the best mod downloader for 100% working mods. Click here to learn
how to use HappyMod
to download and install all kinds of file types:xapk, bapk, apks...
# Mod Info
The main advantages / modifications of MeChat Mod APK 3.9.2
Mod V1 features:
: Modify sufficient diamonds without reduction.
The
1. The new version of "Dating" needs to download data online to update scientific online to continue the game.
2. 2.14.0 has supported Chinese, and this game has the risk of title.
Mod V2 features:
Unlimited Diamonds
Mod of recommend
Mod of latest version
# Create a highly regarded profile by choosing your own interests.
Before you can start the game, you need to create a profile for yourself. This allows others to easily find and connect with you through a common image. You also need to pick a specific image for your profile picture. MeChat allows you to create an avatar that looks exactly like you in real life. This can be accomplished through the simple process of designing a profile picture that captures the essence of your appearance. Alternatively, you can use the program to design a more complicated avatar that has greater visual effects. The game's profile pics need to stand out among thousands of other profiles. This is why people enjoy the game's character design features so much. Because of the game, you can include personal information such as your hobby or Zodiac sign that isn't already included in the app. This helps you meet people with similar interests and start meaningful conversations.
# Look for a better party for me.
The matching feature in the game is reminiscent of a dating app. It's one of the reasons so many people love this game— it makes finding a match easy. In just a short time, you can quickly form a romantic relationship with someone. The game's overall design is similar to an application that helps people find dates. By selecting compatible objects through the program, it provides you with a lot of options for your search. Because you've provided 80% to 90% of your personal information, the program is able to match you with people who are similar to you. After that, it will begin filtering data and grouping objects into categories based on your selections.
# Take advantage of the moments with minute-long joys.
The game features a live chat option that provides you with the opportunity to connect with other players. Even though the characters and dialogues in the game are fictional, it still gives players true emotions and feelings of fulfillment. Your partner will add to the ongoing discussion with information on their favorite topics and interests. When you two feel ready to pursue a romantic relationship, continue talking or end the conversation. Alternatively, you can choose to discontinue talking if you feel unsure about your relationship. Regardless of your choice, you should always consider all sides of an issue before making a decision. MeChat-Love Secrets provides a unique experience for those who decide to dive headfirst into its world of love. While there, you'll discover every emotion imaginable— from anger to bliss— which will remain with you long after you leave. Additionally, single individuals can gain insight into what it's like to be in a relationship through the experience.
# MeChat's full app description is available in a document titled In-Depth Description of MeChat.
MeChat is the creation of PlayMe Studio, a company that develops role-playing dating apps. This particular one includes characters from multiple backgrounds and professions. It's only suitable for adults, who are 17 or older, due to its explicit nature. After downloading the app, you'll be amazed at its simplicity. All you need to do is swipe through all the characters and choose your ideal mate from the list. Then sit back and wait for a match to be made. The application is 125 megabytes and optimally runs on all Android 5.0 and higher devices. You can use the app after a match to share emojis, start a chat, and exchange ideas with other players.
# MeChat can be accessed from an APK.
After downloading the MeChat app from the Google Play Store, it can be set up and utilized quickly. Additionally, a short verification process is required that involves providing a phone number and email address. The app also requires the submission of a name before it can be used. After registering, you can swipe left or right to view potential matches. You must select between male or female and a specific age range before the person below you can make a selection. You can continue chatting with your match as long as they allow. Once you have matched with someone, you can meet up in real life if that's what your partner prefers. This app is primarily for virtual communication; however, it can also be used for in-person meetings. It's advisable to meet with people under supervision. Meet in public places so someone else is present.
# Get extra abilities with each new game.
In-app purchases provide access to additional features for $0.99 to $99.99 per item. Some of these in-app purchase options unlock additional benefits, including this one. A season pass grants access to future seasons. The pass grants you access to all of the available characters for one season. You can talk with other passholders as much as you'd like through the app. Additionally, regular updates make the app convenient and useful. Advertisement Gain access to additional Gems and Coins by completing specific tasks. Additional coins and gems can be unlocked with ease once purchased. This allows users to enjoy the best features without having to spend much. You can travel in time and go back or forward at any time. Adding only unique characters increases the game's exclusivity. Sending messages through chat channels to your chat partners or playing games with them are possible thanks to unique abilities and skills that only certain characters have.
# The MeChat App APK includes specific characteristics.
The app has many great features that make it easy to find your perfect match. These include the ability to search by age range, location, and more. The application is easy to understand and use for first-time users. Therefore, the developers included modern designs to appeal to younger generations. The matching application uses an advanced algorithm to determine your potential matches in real time. You won't have to wait days for a response from people interested in you; the application functions in real time. MeChat gives users the ability to limit who can see their profile and pictures. This allows them to keep people away who are trying to find out more information about them, such as their pictures or updates. No limit to the number of people you can converse with.ur matches for as long as you wish without any restrictions.
# MeChat Mod APK 3.9.2 Features:
Find your perfect match with MeChat!
Swipe, Match, and Date!

Welcome to game with a fully new virtual date experience! Live through the stories where you make choices and your choices impact the story.

SWIPE and MATCH with dozens of characters who are waiting there for you. Different characters, backgrounds and stories. Romance, adventure or drama, what lieas ahead? Play to find out!

MATCH with those you like! Get to know your virtual crushes throuth excinting chats and dialogues, enjoy selffies and steamy pictures. Unveil their hidden secrets and greatest joys.

DATE with those you have strong bond with. Build the connection, enjoy selfies, react with emojies and do choices that impact the story.
In this romantic game you're the main hero and love interest.

Let's Swipe, Match and Date!

--
Please note: MeChat is free to play, though some in-game items can also be purchased for real money. If you don't want to use this option, simply turn it off in your device's Restrictions menu.

Privacy policy can be found at https://playme.pro/info/general_privacy_policy_eng.html

Terms and Conditions of use can be found at https://playme.pro/info/general_terms_of_use_eng.html

By installing this application you agree to the terms of the licensed agreements.

Create a highly regarded profile by choosing your own interests.
Look for a better party for me.
Take advantage of the moments with minute-long joys.
MeChat's full app description is available in a document titled In-Depth Description of MeChat.
MeChat can be accessed from an APK.
Get extra abilities with each new game.
The MeChat App APK includes specific characteristics.

# How to download and install MeChat Mod APK 3.9.2 ?
// Option A //
To download MeChat mod from HappyMod.com.
You need enable the option "Unknown Sources".
1. Click on the above link to download MeChat mod APK.
2. Save the file in your device Downloads folder.
3. Now tap on Install and wait for the installation to finish.
4. Once it is done, open the game and start playing it right away.
// Option B //
To download MeChat from HappyMod APP, you can follow this:
1. Open your browser and download the HappyMod APK file from HappyMod.com - the only official website of HappyMod.
2. Open Android Settings and go into Privacy or Security.
3. Tap the option to Allow Unknown Sources and enable it.
4. Go to your Android downloads and tap the APK file.
5. Follow the directions on the screen to install it.
6. Search MeChat in HappyMod App.

# Full Specifications of MeChat Mod APK 3.9.2
// Download Information //
| | |
| --- | --- |
| Size | 93.3MB |
| Version | 3.9.2 |
| Version Code | 3674 |
| Lang | af am ar as az be bg bn bs ca cs da de de-DE el en en-AU en-CA en-GB en-IN en-XC es es-ES es-US et eu fa fi fr fr-CA gl gu hi hr hu hy id in is it iw ja ja-JP ka kk km kn ko ky lo lt lv mk ml mn mr ms my nb ne nl or pa pl pt pt-BR pt-PT ro ru si sk sl sq sr sr-Latn sv sw ta te th tl tr tw uk ur uz vi zh zh-CN zh-HK zh-TW zu |
// Operation Systems //
Permission
INTERNET VIBRATE ACCESS_NETWORK_STATE POST_NOTIFICATIONS C2D_MESSAGE RECEIVE WAKE_LOCK RECEIVE_BOOT_COMPLETED READ WRITE READ_SETTINGS UPDATE_SHORTCUT BROADCAST_BADGE PROVIDER_INSERT_BADGE UPDATE_COUNT UPDATE_BADGE CHANGE_BADGE READ_SETTINGS WRITE_SETTINGS READ_APP_BADGE READ_SETTINGS WRITE_SETTINGS BADGE_COUNT_READ BADGE_COUNT_WRITE BIND_GET_INSTALL_REFERRER_SERVICE AD_ID BIND_APPHUB_SERVICE ACCESS_WIFI_STATE BILLING FOREGROUND_SERVICE
Permission Text
OTHER:
OTHER:
Allows applications to open network sockets.
Allows access to the vibrator.
Allows applications to access information about networks.
Allows using PowerManager WakeLocks to keep processor from sleeping or screen from dimming.
Allows an application to receive the ACTION_BOOT_COMPLETED that is broadcast after the system finishes booting.
Allows an application to read or write the system settings.
Allows an application to read or write the system settings.
Allows applications to access information about Wi-Fi networks.

Min Sdk
22
Min Sdk Txt
$mod_unpack_info.min_sdk_txt}}
Target Sdk
30
Target Sdk Txt
30
Multi Window
No
Supports Screens
small, normal, large, xlarge
CPU
armeabi-v7a
Open GL Int
0
Supports Any Density
Yes
Densities
120, 160, 240, 320, 480, 640, 65534, 65535
// User Features //
Uses Feature
Wi-Fi hardware features:
The app uses 802.11 networking (Wi-Fi) features on the device.

Uses Feature
Touchscreen hardware features:
The app uses the Global System for Mobile Communications (GSM) telephony radio system.
The app uses the device's basic two-point multitouch capabilities, such as for pinch gestures, but the app does not need to track touches independently. This is a superset of the android.hardware.touchscreen feature.
The app uses the device's advanced multitouch capabilities for tracking two or more points independently. This feature is a superset of the android.hardware.touchscreen.multitouch feature.

Uses Feature
The app requires the device to use the portrait or landscape orientation. If your app supports both orientations, then you don't need to declare either feature.#The app uses 802.11 networking (Wi-Fi) features on the device.#:


// Signature //
| | |
| --- | --- |
| Md5 | 579D68614FFB4EB1E7F8F6AD0DDBBF76 |
| Signature | A7B3774480C00C2064EA19F159906241F9F9D225 |
| Sha256 | AB9E09A265FEBB9CD0AD883E0F2E56D098665237F0B26B6B6C0912CB4A5889A0 |
| Valid From | Fri Apr 26 05:42:17 CEST 2019 until: Sun Apr 18 05:42:17 CEST 2049 |
| Serial Number | 2a9d19b2 |
// Developer //
# What're users talking about MeChat Mod APK
Download HappyMod to join real time talk with millions of users.
User reviews
User requests
Request a latest version of MeChat Mod
If this mod doesn't work, you can send a request to HappyMod community. Users will upload a new mod if they've one.
Send a request
Latest requests related to MeChat