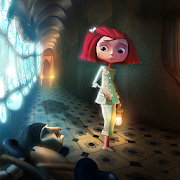 ROOMS: The Toymaker's Mansion Mod APK 1.228 [Unlocked]
Update on: 2023-05-26
ROOMS: The Toymaker's Mansion Mod is a modified version of ROOMS: The Toymaker's Mansion developed by Handmade Game. The difference between mod version and original version is: ROOMS: The Toymaker's Mansion is a fascinating puzzle game t... You can download latest mod version or original version of
ROOMS: The Toymaker's Mansion 1.345
with HappyMod. HappyMod is the best mod downloader for 100% working mods. Click here to learn
how to use HappyMod
to download and install all kinds of file types:xapk, bapk, apks...
# Mod Info
The main advantages / modifications of ROOMS: The Toymaker's Mansion Mod APK 1.228 [Unlocked]
Mod V1 features:
Unlock all level payment games
Mod V2 features:
ROOMS: The Toymaker's Mansion is a fascinating puzzle game that has gained popularity among the gamers.
The game has recently launched its v1.228 mod, which unlocks all levels of the game.
This unique feature will keep the gamers engaged and hooked to the game for longer durations.
The game can be easily downloaded from Google Market for a price of $4.99.
Mod V3 features:
Unlock all levels! Google Market $ 4.99 good game, payment games for free!
Mod of recommend
Mod of latest version
# Plot
The game revolves around a toy maker's bizarrely decorated house. The reason for many puzzle situations in the game is that the rooms of this house can move from one location to another. We should call this a Twisted Mansion because of its name and the fact that rooms can move from one place to another. Your characters only goal is to find the exit. By exploring the rooms and utilizing the items found therein, they defeat the challenge. The game's puzzles don't obstruct the narrative, which deftly weaves a complex, otherworldly reality. Before falling asleep, Anna's mother, a storyteller, tells stories to her daughter. Then she goes to bed and works on her book. The little girl, who was too late when she expected her mother to come into her room, spotted a glowing book on the table. Out of curiosity, she approached it and saw that it opened to a page with an illustration. Anna walked over and opened the book. She was instantly sucked into the pages by a mysterious force. After regaining consciousness, Anna realized she was at a large and dimly lit mansion. She held only one lamp in her hand as she noticed the unusual nature of the house. A short time later, she realized her situation was even more strange and frightening with the thought of being imprisoned there for good. Before it's too late, you need to find a way out of the mansion as Anna. Doing this will reunite you with your mother in the real world.
# A mental puzzle game involves fierce storms.
Solving a puzzle can be difficult and frustrating. But the struggle is worth it when you find a workable solution. You may have to be quiet when figuring out how to overcome a tough challenge. Alternatively, finding clever answers can make you excited. Because you accomplished something few people ever do. You may experience feelings of self-loathing after a few seconds. Next you might feel elated at winning due to positive impulses in your mind. This all happens when you indulge yourself in ROOMS: The Toymakers Mansion. Creating the Toymakers Mansion's rooms demands a creative process with many steps. And starting the game in space doesn't force players to navigate the universe on their own. The game's difficulty level increases gradually through quizzes that range from small to medium in size. Each time one of these tests is passed, new skills are learned by the player. The game speed is also well-balanced between both advanced and novice players. Regardless of your efforts, you'll only unlock two possible endings for ROOMS: The Toymakers Mansion. One sees the protagonist escape the mysterious house and return to his actual home with his mother. The other sees the main character trapped in the house forever. You must always search for a solution to your dilemma, as there is no other option but to remain imprisoned. There's no need for you to react quickly or perform well. Just consider many different ideas and decide the best way to escape. Why must you escape? The hallway twistedly winds through the house, with dead ends and traps for stalkers. They can be various monsters or a set of dead ends; they can block you at any time. Anna also has access to a basement area with special abilities. She can use her cell phone to teleport, plant bombs or move rooms quickly. You must pass through the game's rooms by locating missing components or connecting broken stairs. In order to complete a mission, you must avoid all obstacles, including bombs and monsters. Once Anne disappears, she begins the cycle again.
# What is the Maser Mansion's total number of levels?
Playing the Toymakers Mansion levels in order provides a unique experience. Because this mansion is so easy at first, it seems like it wouldn't be too terrible. In reality, it's absolutely not. The mother vanishes from the plot as new difficulties emerge. Additionally, the reason she disappeared gradually becomes apparent. This pattern of events continues until the story ends. As you brainstorm to complete the task, you inadvertently lead the story. Numerous complications constantly arise to confuse you further than you could possibly imagine. You feel anxious and regret attempting the task as a result. The game includes at least 500 levels divided into four themes: mansions with four different layouts. Finding ones way back to one's mother and leaving the house without being found are difficult tasks for the game's protagonist.
# Video and audio are essential components of a game.
The Toymakers Mansion looks entirely 2D from the outside, but it actually uses motion effects, animation style and highlights to create a surreal appearance on the inside. The girl wandering the hallway can easily see that this house is offbeat. The game's puzzle-based adventure features many heart-thumping moments and bone-chillingly spooky environments. The experience as a whole has a dark, ghostly atmosphere. The image of a cute baby brings relief to the senses. Any images of strange noises at night in a bizarre house or rooms with odd elements can cause panic in even the most seasoned adult. However, the image of Anna doesn't intimidate even the bravest people.
# Plot
Little Anne often had stories told to her at night by her mother, a novelist. The mother and daughter often shared a bedroom, where topics revolving around Anne were included in the content of the mansion. Anne unexpectedly didn't see her mother the next day. Headed to her home, Anne discovered that her mother wasn't there when she entered her room. Anne noticed a glowing book on the table when she looked around— which led her to discover what was happening. Anne came to the dark mansion in the book by sheer accident. She carried only a lamp filled with oil, as she searched for a way out of her predicament.mansion but it was really a difficult thing without your help.
# ROOMS: The Toymaker's Mansion Mod APK 1.228 [Unlocked] Features:
«ROOMS: The Toymaker's Mansion» is a unique puzzle game inspired by sliding puzzle and platformer games. In a twisted mansion made of rooms that slide like puzzle pieces, the player should find a way to the exit by moving rooms and using what's inside them. As the player explores the mansion, various gadgets are introduced and make the puzzles more tricky and challenging.

Set in a fairy tale-like world full of magical objects and spooky stories, the player takes a role of an innocent little girl, Anne, who was accidentally trapped in the mansion. As the story unfolds itself, the player goes through the dark legend of the twisted mansion.

The game has 144 levels which are divided into 4 themes (mansions). Each mansion has basement levels where Anne can use her special abilities like using a cellphone to teleport, placing a bomb, and moving all rooms at once.

«ROOMS: The Toymaker's Mansion» is a long awaited, official and fully realized sequel to «ROOMS: The Main Building», critically acclaimed and an award winning IGF finalist game released globally on Nintendo DS, Wii, and Steam.

-Unique puzzle mechanic proven in its predecessor
-144 puzzle levels=96 main storyline levels + 48 special ability levels
-4 beautifully crafted mansion themes and music
-Complete storyline with two endings

The Toymakers' Mansion can be referred to as a room.
Plot
A mental puzzle game involves fierce storms.
What is the Maser Mansion's total number of levels?
Video and audio are essential components of a game.
Plot

# How to download and install ROOMS: The Toymaker's Mansion Mod APK 1.228 [Unlocked]?
// Option A //
To download ROOMS: The Toymaker's Mansion mod from HappyMod.com.
You need enable the option "Unknown Sources".
1. Click on the above link to download ROOMS: The Toymaker's Mansion mod APK.
2. Save the file in your device Downloads folder.
3. Now tap on Install and wait for the installation to finish.
4. Once it is done, open the game and start playing it right away.
// Option B //
To download ROOMS: The Toymaker's Mansion from HappyMod APP, you can follow this:
1. Open your browser and download the HappyMod APK file from HappyMod.com - the only official website of HappyMod.
2. Open Android Settings and go into Privacy or Security.
3. Tap the option to Allow Unknown Sources and enable it.
4. Go to your Android downloads and tap the APK file.
5. Follow the directions on the screen to install it.
6. Search ROOMS: The Toymaker's Mansion in HappyMod App.

# Full Specifications of ROOMS: The Toymaker's Mansion Mod APK 1.228 [Unlocked]
// Download Information //
| | |
| --- | --- |
| Size | 72.8MB |
| Version | 1.228 |
| Version Code | 1348 |
| Lang | af am ar as az be bg bn bs ca cs da de el en-AU en-CA en-GB en-IN en-XC es es-ES es-US et eu fa fi fr fr-CA gl gu hi hr hu hy id in is it iw ja ka kk km kn ko ky lo lt lv mk ml mn mr ms my nb ne nl or pa pl pt pt-BR pt-PT ro ru si sk sl sq sr sr-Latn sv sw ta te th tl tr uk ur uz vi zh-CN zh-HK zh-TW zu |
// Operation Systems //
Permission
CHECK_LICENSE INTERNET VIBRATE ACCESS_NETWORK_STATE WAKE_LOCK RECEIVE_BOOT_COMPLETED BILLING BIND_GET_INSTALL_REFERRER_SERVICE SYSTEM_ALERT_WINDOW
Permission Text
OTHER:
OTHER:
Allows applications to open network sockets.
Allows access to the vibrator.
Allows applications to access information about networks.
Allows using PowerManager WakeLocks to keep processor from sleeping or screen from dimming.
Allows an application to receive the ACTION_BOOT_COMPLETED that is broadcast after the system finishes booting.
Allows an app to create windows using the type TYPE_SYSTEM_ALERT, shown on top of all other apps.

Min Sdk
22
Min Sdk Txt
$mod_unpack_info.min_sdk_txt}}
Target Sdk
29
Target Sdk Txt
29
Multi Window
No
Supports Screens
small, normal, large, xlarge
CPU
arm64-v8a
Open GL Int
0
Supports Any Density
Yes
Densities
120, 160, 240, 320, 480, 640, 65534, 65535
// User Features //
Uses Feature
Screen hardware features:
other.
The app requires the device to use the portrait or landscape orientation. If your app supports both orientations, then you don't need to declare either feature.

Uses Feature
Touchscreen hardware features:
The app uses the Global System for Mobile Communications (GSM) telephony radio system.
The app uses the device's basic two-point multitouch capabilities, such as for pinch gestures, but the app does not need to track touches independently. This is a superset of the android.hardware.touchscreen feature.
The app uses the device's advanced multitouch capabilities for tracking two or more points independently. This feature is a superset of the android.hardware.touchscreen.multitouch feature.

Uses Feature
other.#The app requires the device to use the portrait or landscape orientation. If your app supports both orientations, then you don't need to declare either feature.#:


// Signature //
| | |
| --- | --- |
| Md5 | 579D68614FFB4EB1E7F8F6AD0DDBBF76 |
| Signature | A7B3774480C00C2064EA19F159906241F9F9D225 |
| Sha256 | AB9E09A265FEBB9CD0AD883E0F2E56D098665237F0B26B6B6C0912CB4A5889A0 |
| Valid From | Fri Apr 26 05:42:17 CEST 2019 until: Sun Apr 18 05:42:17 CEST 2049 |
| Serial Number | 2a9d19b2 |
// Developer //
# What're users talking about ROOMS: The Toymaker's Mansion Mod APK
Download HappyMod to join real time talk with millions of users.
User reviews
User requests
Write a review for ROOMS: The Toymaker's Mansion Mod APK
Rate it:
Submit a review
User reviews (38)
Request a latest version of ROOMS: The Toymaker's Mansion Mod
If this mod doesn't work, you can send a request to HappyMod community. Users will upload a new mod if they've one.
Send a request
Latest requests related to ROOMS: The Toymaker's Mansion