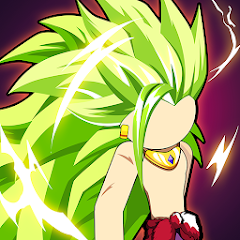 Stickman Warriors Mod APK 1.7 [Unlimited money]
100% working
Update on: 2021-07-22
Stickman Warriors Mod is a modified version of Stickman Warriors developed by Skysoft Studio. The difference between mod version and original version is: limited coins, limited resources, epic experience... You can download latest mod version or original version of
Stickman Warriors 1.5.6
with HappyMod. HappyMod is the best mod downloader for 100% working mods. Click here to learn
how to use HappyMod
to download and install all kinds of file types:xapk, bapk, apks...
# Mod Info
The main advantages / modifications of Stickman Warriors Mod APK 1.7 [Unlimited money]
Video Verified
limited coins, limited resources, epic experience
Mod of recommend
Mod of latest version
# 100% working video verified!
Screen capture video of Stickman Warriors Mod. 100% working!
# An action-combat game featuring Stickman Warriors. A free app called Stickman Warriors APK is available for download.
You can enjoy amazing fighting games with a wide range of characters and storylines. Many are available today, making it easy to find the best games. There are many great anime fighting games available today. Some people prefer Stickman Warriors Super Dragon Shadow Fight over other options. It's one of many great fighting games like UFC, Mortal Kombat, Injustice, Street Fighter and Emulators. This game has more than 100 characters to unlock; it lets you play with so many different ones. Some of the anime shows available in this game are Naruto, Dragon Ball and many more. The title is a bit cheesy and overblown, but the gameplay is lots of fun. This game offers a wide variety of gameplay styles and abilities thanks to its unique characters. Additional modes include Story, Versus, Tournament, and Training; there are over 144 levels in all three.
# A enjoyable fighting game based on an anime.
Considering the popularity of fighting games, many free fighting games exist with numerous moves and characters. Players who enjoy this genre can choose from many different options currently available. Simple 2D stickman games, like Stickman Warriors Super Dragon Shadow Fight, are still very popular today. Along with cutting-edge gameplay and 3D graphics, these games have other major features. This game borrows characters and fighting styles from many popular anime shows today. There are over 100 unlockable characters in this game; each one is incredibly powerful on their own. Advertisement In addition to original characters, this game features characters borrowed from other anime shows such as Naruto, Cell, Vegeta, Goku, Trunks, Sasuke, Kakashi and Sakura. Because of this, players have access to unique stats for the villains from popular anime shows. The story mode of this video game has more than 144 levels. Additionally, players can freely control the characters in these levels.
# Stickman Warriors offers a comprehensive summary of the game.
One of the best fighting games to play is Stickman Warriors Super Dragon Shadow Fight. It has a high rate of satisfaction among its players. There are a lot of old games available for mobile devices; one of them is the fighting game genre. You can find many of these games in the Google Play Store. Try out Stickman Warriors Super Dragon Shadow Fight if you want a stickman fighting game that's fun with many elements, characters, upgrades and combinations. This game provides an endless amount of entertainment thanks to its many elements and large roster of characters. You can play this game using the anime character you chose. This game has more than 100 characters; each one popular anime show today. This game has characters from popular anime shows like Dragon Ball, Naruto and more. There are so many skills and combos you can do in this game; you're free to perform them all in each match. This game has several different modes that players can play in today. Advertisement Many popular anime shows are a source of inspiration for Stickman Warriors Super Dragon Shadow Fight. The game combines these characters people come to love with each other into an amazing experience. Many characters can be unlocked in Dragon Ball Xenoverse. These include Naruto, Kurama, Hinata, Sasuke, Sakura, Goku and many more. Each character has unique stats that need to be discovered by testing them out yourself. These characters have their own HP, Attack, MP and critical stats. Complete the game with them by defeating enemies. The 2D graphics in Stickman Warriors Super Dragon Shadow Fight are extremely fun. The game's graphics are easy to understand and follow due to solid controls and parallax backgrounds. The game comes preloaded with features that keep the action interesting, such as animated cutscenes. Additionally, the controls are standard for a fighting game: users can choose between a virtual joystick and buttons for various skills. Many game modes to choose from— Several game modes are available for the chosen game. These include Story Mode, which takes place in 144 levels; as well as other options like Versus and Free Mode. You can access additional game modes including Training and the Tournament. Versus Mode allows you to play against your favorite characters, and there's also a mode for practicing called the Mode. Special skills and increased power are available thanks to this game. Use these features to your advantage and upgrade your characters.
# GAMEPLAY
The game's control scheme is easy to understand and use by anyone. It's especially helpful for newbies who are interested in fighting games. The gameplay in this DBZ game is intense and focused on 1v1 battles. Additionally, players can enjoy the many other great aspects of this game such as their characters, along with much more. The game features both exploration and combat. It allows players to discover the incredible moments of different characters through both methods. Additionally, players can use skills and perform combos to defeat their opponents. This is a great fighting game that many people will love due to its appearance and battle system.
# FEATURES
The game's control mechanism features an uncomplicated design that doesn't take up a lot of space on the display. This makes it easier for players to develop their skills and better understand the game at hand. Plus, combining movement with attack allows for more powerful combos. Adding a joystick mechanic to the equation means players can more quickly navigate through the game. And by playing with both motion and action, they can perform some powerful attacks in sync. In a fighting game, characters have many combo moves and skills. These constantly help the player win the match. However, players must know when to use these skills to win the game; they don't come up often. ———
# Stickman Warriors Mod APK 1.7 [Unlimited money] Features:
Stickman Warriors - Super Dragon Shadow Fight best fighting action role-playing game on Google Play.

This fighting game will give you a chance to become one of dbz heroes to fight z with enemies and protect everybody on earth. Enter into the arena and fight for the survival. If you love playing games then this is the game which will amaze you with the swift handling and amazing features.

With addictive gameplay z fighters, your enemies will upgrade their power and you have to fight for survival. To fight against the most DB Boss likes Ninja Black, Big Thunder lizards..., the shadow stick z fighter may need to upgrade your power to the highest level. We bet you will enjoy the abundant upgrades for and all your stickman heroes in the best action RPG fighting game.


HOW TO PLAY

Stick Warriors has the most basic control ever! you just need to dodge, jump, power your ki, become ultra instinct and Z warriors super Hero fight against invaders. Use ultimate power, ultra shooting ball skill will be kill all invaders in shadow.

FEATURES

- 100+ stickman fighter characters with unique design style and special skill of each
- Story mode: Over than 144+ levels in story mode that help you collect stickman fighter characters more quickly. The maps in Stick Warriors be continuously updated, graphics transformation super ssj z on each other maps only in dbgt fight!
- Versus mode: Face your favorite opponent head-on in an one-on-one battle. The winner will be decided after 3 rounds.
- Tournament: 16 finest warriors were chosen to fight in the tournament. Defeat any person may come in your way to reach the ultimate glory as the new champion.
- Training mode: Prepare yourself for a new journey. Here, you can practice fighting skills and try out new characters. There's no limit on time so you can fight with the dummy as long as you want.
- Upgrade and unlock over 100+ unique special moves for each fighter.
- Stick Warriors super saiyan has the most basic control ever!
- Ultra instinct characters.
- Easy and Simple to play.
- Cool transform Saiyanz.
- Collect these kinds of super fighters: dragon ssj2, z ssj3, ssj4, ultra instinct (ui), xeno... to become strongest stick warrior.

Download the game now and join millions of players around the world and start your journey in Stickman Warriors - Super Dragon Shadow Fight!

An action-combat game featuring Stickman Warriors. A free app called Stickman Warriors APK is available for download.
A enjoyable fighting game based on an anime.
Stickman Warriors offers a comprehensive summary of the game.
GAMEPLAY
FEATURES

# How to download and install Stickman Warriors Mod APK 1.7 [Unlimited money]?
// Option A //
To download Stickman Warriors mod from HappyMod.com.
You need enable the option "Unknown Sources".
1. Click on the above link to download Stickman Warriors mod APK.
2. Save the file in your device Downloads folder.
3. Now tap on Install and wait for the installation to finish.
4. Once it is done, open the game and start playing it right away.
// Option B //
To download Stickman Warriors from HappyMod APP, you can follow this:
1. Open your browser and download the HappyMod APK file from HappyMod.com - the only official website of HappyMod.
2. Open Android Settings and go into Privacy or Security.
3. Tap the option to Allow Unknown Sources and enable it.
4. Go to your Android downloads and tap the APK file.
5. Follow the directions on the screen to install it.
6. Search Stickman Warriors in HappyMod App.

# Full Specifications of Stickman Warriors Mod APK 1.7 [Unlimited money]
// Download Information //
| | |
| --- | --- |
| Size | 38.7MB |
| Version | 1.7 |
| Version Code | 1304 |
| Lang | af am ar as az be bg bn bs ca cs da de el en-AU en-CA en-GB en-IN en-XC es es-ES es-US et eu fa fb fi fr fr-CA gl gu hi hr hu hy id in is it iw ja ka kk km kn ko ky lo lt lv mk ml mn mr ms my nb ne nl or pa pl pt pt-BR pt-PT ro ru si sk sl sq sr sr-Latn sv sw ta te th tl tr uk ur uz vi zh-CN zh-HK zh-TW zu |
// Operation Systems //
Permission
INTERNET ACCESS_NETWORK_STATE WAKE_LOCK BIND_GET_INSTALL_REFERRER_SERVICE RECEIVE C2D_MESSAGE BILLING WRITE_EXTERNAL_STORAGE' maxSdkVersion='18 READ_EXTERNAL_STORAGE
Permission Text
OTHER:
OTHER:
Allows applications to open network sockets.
Allows applications to access information about networks.
Allows using PowerManager WakeLocks to keep processor from sleeping or screen from dimming.
STORAGE:
Allows an application to read from external storage.

Min Sdk
16
Min Sdk Txt
$mod_unpack_info.min_sdk_txt}}
Target Sdk
29
Target Sdk Txt
29
Multi Window
No
Supports Screens
small, normal, large, xlarge
CPU
armeabi-v7a
Open GL Int
0
Supports Any Density
Yes
Densities
120, 160, 240, 320, 480, 640
// User Features //
Uses Feature
Screen hardware features:
other.

Uses Feature
Touchscreen hardware features:
The app uses the Global System for Mobile Communications (GSM) telephony radio system.
The app uses the device's basic two-point multitouch capabilities, such as for pinch gestures, but the app does not need to track touches independently. This is a superset of the android.hardware.touchscreen feature.
The app uses the device's advanced multitouch capabilities for tracking two or more points independently. This feature is a superset of the android.hardware.touchscreen.multitouch feature.

// Signature //
| | |
| --- | --- |
| Md5 | E89B158E4BCF988EBD09EB83F5378E87 |
| Signature | 61ED377E85D386A8DFEE6B864BD85B0BFAA5AF81 |
| Sha256 | A40DA80A59D170CAA950CF15C18C454D47A39B26989D8B640ECD745BA71BF5DC |
| Valid From | Fri Feb 29 02:33:46 CET 2008 until: Tue Jul 17 03:33:46 CEST 2035 |
| Serial Number | 936eacbe07f201df |
// Developer //
| | |
| --- | --- |
| Developer | Android |
| OU | Android |
| Organization | Android |
| Locale | Mountain View |
| Country | US |
| City | California |
# What're users talking about Stickman Warriors Mod APK
Download HappyMod to join real time talk with millions of users.
User reviews
User requests
Write a review for Stickman Warriors Mod APK
Rate it:
Average rating out of 326
Submit a review
User reviews (326)
Request a latest version of Stickman Warriors Mod
If this mod doesn't work, you can send a request to HappyMod community. Users will upload a new mod if they've one.
Send a request
Latest requests related to Stickman Warriors