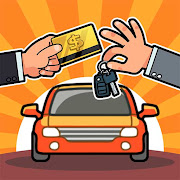 Used Car Tycoon Game Mod APK 23.1.1 [Unlimited money][Unlocked][VIP]
Update on: 2023-01-03
Used Car Tycoon Game Mod is a modified version of Used Car Tycoon Game developed by . The difference between mod version and original version is: 1.Unlimited Money 2.Unlock VIP... You can download latest mod version or original version of
Used Car Tycoon Game 23.1.1
with HappyMod. HappyMod is the best mod downloader for 100% working mods. Click here to learn
how to use HappyMod
to download and install all kinds of file types:xapk, bapk, apks...
# Mod Info
The main advantages / modifications of Used Car Tycoon Game Mod APK 23.1.1 [Unlimited money][Unlocked][VIP]
1.Unlimited Money
2.Unlock VIP
Mod of recommend
Mod of latest version
# The Game apk Used Car Tycoon by name.
SuperMT offers a used car management game called Used Car Tycoon Game. It's a simulation/management game that tests your skills in running the company and completing different tasks. The goal is to increase the company's profitability and size through multiple means. People can pursue any or all of these strategies. Start the game with a small bank account and a few supplies handy. Utilize these resources wisely to achieve success in your business. Different types of cars can be purchased, sold or traded in the game. When shopping for cars, you need to understand the different features and costs of each model. Deal with a wide range of challenges, from dealing with different resources to making tough decisions. In Used Car Tycoon Game APK for Android, you'll have to build a car lot and manage it.
# The game features a mind-invoking gameplay.
This game requires dedication, intelligence, and an understanding of business to play. It won't be suitable for children, as it requires focus and considerable effort. You must use all your wit and intelligence to win. The game is incredibly realistic, as it allows players to run a car dealership business from the inside. Every action players take will have a direct effect on the business either positively or negatively. Making any move is risky because it can jeopardize your business. However, using your business acumen can help you gain the upper hand and make money for yourself. You need to buy cars and renovate them before selling them for a higher price. There is an auction system for buying and selling cars that you can use. This never-ending game has no end. Players can continue playing as long as they'd like and pursue achieving the top business position.
# Lots of activities to take on as well as many choices to make.
This game provides a lot of content. You can choose from multiple activities to grow your business; these include shopping and advertising. You won't get bored with this game because you'll always have something to do. Understanding the principles of supply and demand applies to any business. Cars are no exception. Buying more of a specific car when demand surges increases sales. Similarly, unsold cars need to be removed from the inventory when demand wanes. Before selling a car, you need to renovate it so that people don't know it has been previously owned. Make any necessary adjustments or changes as needed. Also clean any related areas, such as the stovetop. Trading Cars gives you the ability to trade cars with other traders. Doing this means you can get rid of old stock and make a profit. It's crucial to hire reliable employees to run different business operations. You need people like mechanics and salespeople to support your business. And don't forget to consider other important roles like office assistants and bookkeepers. Advertisement You need to be both smart and quick-witted in order to run a successful business. You also need to be able to make decisions quickly in order to stay competitive.
# Expand your car empire by growing.
Making a profit is the main goal of this business, but expanding the company is another consideration. You need to make it the largest business in the industry. To properly finish this task, you need to get new tools and expand your facilities. For example, you can buy an adjacent property to construct a new car dealership. Alternatively, you can invest in new machinery that accelerates the renovation process. To attract more customers, you have to continually upgrade your business. The higher the standard of care, the more people visit your dealership to purchase cars. Expand your business until you become the Used Car Tycoon!
# There are a lot of side stories and mini games included in the game.
This game has a lot of extra content. Including the main story, this game has several mini-games and side stories you can enjoy. Participating in these activities can earn you extra money. They can also help you take a break from the game's main story line. Some examples of these activities are aiding villagers in repairing roads or car hunting for treasure. Working with taxi companies allows you to market your products to a wider audience by designing cars that are both reliable and fuel efficient. This game has an endless amount of possibilities. Playing this game can be engaging and thrilling for hours on end. The objective is to make your business the best in the industry by any means necessary. Advertisement
# Used Car Tycoon Game's Key Features Can't Be Duplicated In Any Current Game
In this game you can buy antique and exotic cars. Old cars no longer produced are considered antique. People want to collect cars like the Ford Model T or Chevrolet Bel Air. These cars are hard to find and highly valued by collectors. Getting jobs can sometimes require exploring caves or wading through rivers. However, doing a good job earns you extra money and thanks. In the game, cars change in price every moment. This effect mirrors the real world economy and takes place in real time. When cars are at low prices, you need to purchase them immediately. Additionally, you need to quickly sell any cars you purchase when the demand increases. There are many different vehicles to work with. These include compact cars, old vans, off-road cars and sedans. Additionally, you can use additional cars. Different cars come with different engines; some use petrol, diesel or electricity. Before trading any cars, familiarize yourself with the differences between each model. Cars can be customized and modified in many different ways. Adding new parts or changing the color of a car can be done. Additionally, some car engines can be upgraded.
# Download the Car Tycoon Game MOD APK using this link.
In the Car Tycoon Game MOD APK unlimited money version, you can purchase any car you want without having to consider the price. This version has no limit on money or resources.an also use this money to quickly expand your business.
# Used Car Tycoon Game Mod APK 23.1.1 [Unlimited money][Unlocked][VIP] Features:
"No hay intermediarios que marquen la diferencia" es un juego de negocios que simula la adquisición y venta de autos usados.

Comenzará una tienda de venta de automóviles de segunda mano desde cero, atraerá a más clientes y ganará más dinero adquiriendo vehículos, contratando empleados, desbloqueando instalaciones y aumentando la publicidad.

Características del juego

[Varios tipos de vehículos]
Furgonetas, mini coches, coches pequeños, deportivos, todoterreno y otros modelos tienen todo para satisfacer sus deseos de coleccionar. ¡También hay misteriosos vehículos especiales esperando que los desbloquees!

[Modo de juego de modificación genial]
¿Cómo puede un vehículo ordinario satisfacer las necesidades de los clientes? ¡Agrega el ala de la cola! ¡Kit aerodinámico! Neumáticos de competición más grandes. ¡También hay pinturas geniales únicas!

[Modelo de coche sexy, detonó a la audiencia]
Un coche fragante con mujeres hermosas, ¿cómo no se puede combinar un coche de lujo poco común con un modelo de coche sexy? ¡Date prisa en alquilar modelos de coches para ayudar y atraer a más clientes a visitarlos!

[Estilo de decoración personalizado]
¿Cómo se puede romper la tienda? Tenemos decenas de estilos de decoración personalizables. ¡Elige tu estilo favorito! ¡Por supuesto, puedes personalizar el partido!

¡Más contenido emocionante, esperando que lo descargues y experimentes!

The Game apk Used Car Tycoon by name.
The game features a mind-invoking gameplay.
Lots of activities to take on as well as many choices to make.
Expand your car empire by growing.
There are a lot of side stories and mini games included in the game.
Used Car Tycoon Game's Key Features Can't Be Duplicated In Any Current Game
Download the Car Tycoon Game MOD APK using this link.

# How to download and install Used Car Tycoon Game Mod APK 23.1.1 [Unlimited money][Unlocked][VIP]?
// Option A //
To download Used Car Tycoon Game mod from HappyMod.com.
You need enable the option "Unknown Sources".
1. Click on the above link to download Used Car Tycoon Game mod APK.
2. Save the file in your device Downloads folder.
3. Now tap on Install and wait for the installation to finish.
4. Once it is done, open the game and start playing it right away.
// Option B //
To download Used Car Tycoon Game from HappyMod APP, you can follow this:
1. Open your browser and download the HappyMod APK file from HappyMod.com - the only official website of HappyMod.
2. Open Android Settings and go into Privacy or Security.
3. Tap the option to Allow Unknown Sources and enable it.
4. Go to your Android downloads and tap the APK file.
5. Follow the directions on the screen to install it.
6. Search Used Car Tycoon Game in HappyMod App.

# Full Specifications of Used Car Tycoon Game Mod APK 23.1.1 [Unlimited money][Unlocked][VIP]
// Download Information //
| | |
| --- | --- |
| Size | 165.7MB |
| Version | 23.1.1 |
| Version Code | 23101 |
| Lang | af am ar as az be bg bn bs ca cs da de de-DE el en en-AU en-CA en-GB en-IN en-XC es es-419 es-ES es-MX es-US et eu fa fi fr fr-CA gl gu hi hi-IN hr hu hy id id-ID in is it iw ja ja-JP ka kk km kn ko ky lo lt lv mk ml mn mr ms my nb ne nl or pa pl pt pt-BR pt-PT ro ru si sk sl sq sr sr-Latn sv sw ta te th th-TH tl tr tw uk ur uz vi vi-VN zh zh-CN zh-HK zh-TW zu |
// Operation Systems //
Permission
ACCESS_NETWORK_STATE ACCESS_WIFI_STATE READ_PHONE_STATE WAKE_LOCK INTERNET BILLING PAY_THROUGH_BAZAAR WRITE_EXTERNAL_STORAGE SCHEDULE_EXACT_ALARM VIBRATE READ_EXTERNAL_STORAGE READ_INTERNAL_STORAGE AD_ID READ_LOGS MOUNT_UNMOUNT_FILESYSTEMS WRITE_MEDIA_STORAGE WRITE_INTERNAL_STORAGE BIND_APPHUB_SERVICE POST_NOTIFICATIONS RECEIVE FOREGROUND_SERVICE BIND_GET_INSTALL_REFERRER_SERVICE READ_MEDIA_IMAGES RECEIVE_BOOT_COMPLETED
Permission Text
OTHER:
OTHER:
Allows applications to access information about networks.
Allows applications to access information about Wi-Fi networks.
Allows using PowerManager WakeLocks to keep processor from sleeping or screen from dimming.
Allows applications to open network sockets.
Allows access to the vibrator.
Allows an application to read the low-level system log files.
Allows mounting and unmounting file systems for removable storage.
Allows an application to receive the ACTION_BOOT_COMPLETED that is broadcast after the system finishes booting.
PHONE:
Allows read only access to phone state, including the phone number of the device, current cellular network information, the status of any ongoing calls, and a list of any PhoneAccounts registered on the device.
STORAGE:
Allows an application to write to external storage.
Allows an application to read from external storage.

Min Sdk
21
Min Sdk Txt
$mod_unpack_info.min_sdk_txt}}
Target Sdk
32
Target Sdk Txt
32
Multi Window
No
Supports Screens
small, normal, large, xlarge
CPU
arm64-v8a armeabi armeabi-v7a x86 x86_64
Open GL Int
0
Supports Any Density
Yes
Densities
120, 160, 240, 320, 480, 640, 65534, 65535
// User Features //
Uses Feature
Wi-Fi hardware features:
The app uses 802.11 networking (Wi-Fi) features on the device.

Uses Feature
The app requires the device to use the portrait or landscape orientation. If your app supports both orientations, then you don't need to declare either feature.#The app uses the Global System for Mobile Communications (GSM) telephony radio system.#The app uses 802.11 networking (Wi-Fi) features on the device.#:


// Signature //
| | |
| --- | --- |
| Md5 | AFD12359955C5E9D3F8FA071EB9A4E87 |
| Signature | C7FBD347864FA8123416B2A5D9E015F197B346DD |
| Sha256 | 37803C47397861E81BA0447B486A2BDF3E61202C01F178509F88C59B9B98237B |
| Valid From | Fri Jan 19 10:08:41 CET 2018 until: Sun Dec 26 10:08:41 CET 2117 |
| Serial Number | 74150105 |
// Developer //
| | |
| --- | --- |
| Developer | c |
| OU | cc |
| Organization | c |
| Locale | c |
| Country | c |
| City | c |
# What're users talking about Used Car Tycoon Game Mod APK
Download HappyMod to join real time talk with millions of users.
User reviews
User requests
Request a latest version of Used Car Tycoon Game Mod
If this mod doesn't work, you can send a request to HappyMod community. Users will upload a new mod if they've one.
Send a request
Latest requests related to Used Car Tycoon Game